New Tech Tools for Students
More Information
In addition to the information on this page, you can learn more about other student tech tools on the Technology Support webpage.
Check These Out!
---

Student Email Accounts
If you're a current De Anza student, you can request a college email account by using the "Student Email" app listed in MyPortal. This will give you an email address ending in @student.deanza.edu


When you click on the app, you'll see instructions for submitting your request online. Your address will include your last name and legal first name, like this: lastnamefirstname@student.deanza.edu.
As an alternative, you can use a preferred first name, provided you follow the online instructions for adding your preferred name to your records in the Admissions Office:
Log in to MyPortal and open the apps section, then click on the Student Registration app
Look under "My Profile" and select Add My Preferred First Name (De Anza)
If you choose this option, your email address will look like this: lastnamepreferredname@student.deanza.edu.
Once you submit your request, you'll receive a confirmation sent to your primary email address (the personal account that you used to apply or register for classes), with instructions on how to access your new account through Office 365 or MyPortal.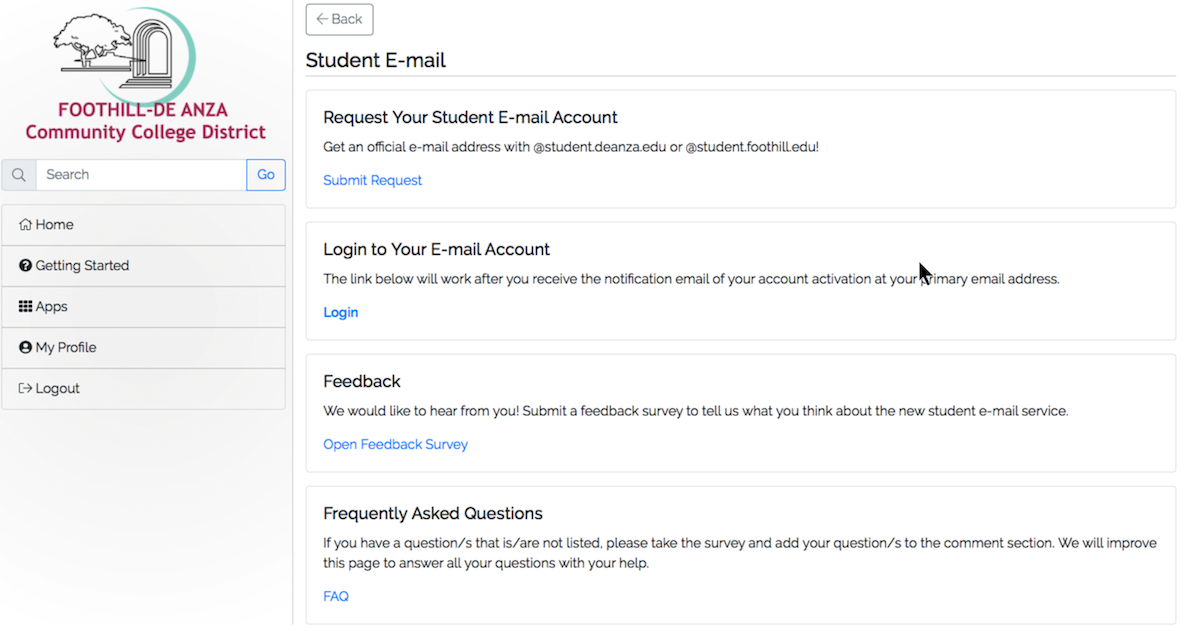 These accounts are only available to active students. (Foothill-De Anza district employees aren't eligible because they have employee accounts.) Your student email account will stay open if you remain an active registered student without missing two consecutive quarters. If you stop taking classes for two quarters in a row, your email account will be closed.
Need Help With Your Student Email Account?
If you've followed the instructions on this webpage and are still having trouble, contact the
Office of College Life
for assistance by sending an email to
collegelife@deanza.edu

Updating Your Primary Email Address for Registration
Applying for a student email account won't change the primary email address that's associated with your registration records. It's recommended that you don't use the @student.deanza.edu account as your primary address for registration or other important activities, since the student email account will be closed after you leave the college.
If you do need to change your primary address for registration
Log in to MyPortal and open the apps section, then click on the Student Registration app
Look under "My Profile" and click on Update My Personal Information
Select View Email Addresses
Select Update Email Addresses
Follow the instructions on your screen
---

New Mobile App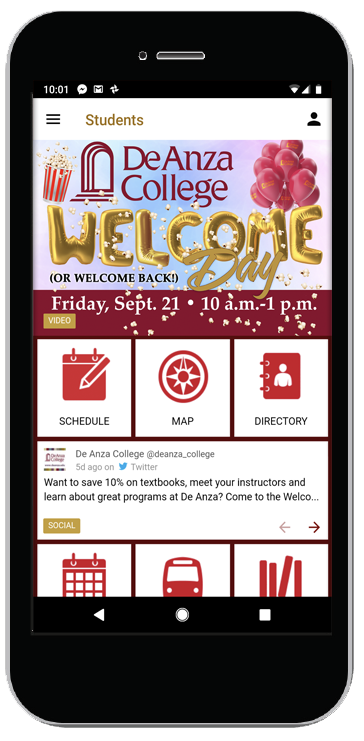 With the latest MyPortal redesign, De Anza and Foothill College also introduced a new smartphone app – available now in the Apple and Google (Android) app stores.
The mobile app will make it easy for you to
Add classes and pay fees on your smartphone or tablet
Share your schedule or class information with friends on social media
Find information about parking, student discounts and other services
Watch videos and catch up on campus events!
Once you download and install the app on your device, you can log in with your CWID and MyPortal password.
For more information on using the app, including how to add classes, see the FAQ list below.
---

Mobile App FAQ
---

New MyPortal Design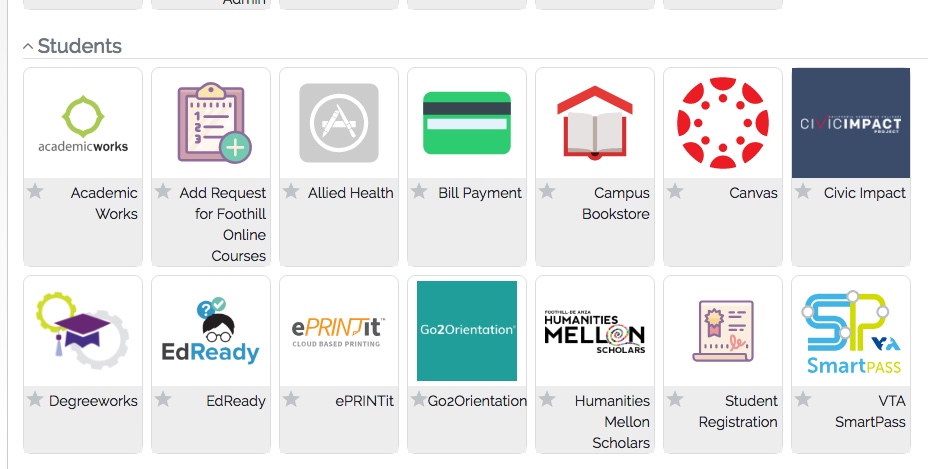 MyPortal has a new design! The sign-in process is the same. But the new homepage shows all the functions and features as apps, arranged as tiles or in an easy-to-view list.
You can rearrange the apps so the ones you use most are easiest to find. Don't see the app you need? Use the search function to find it.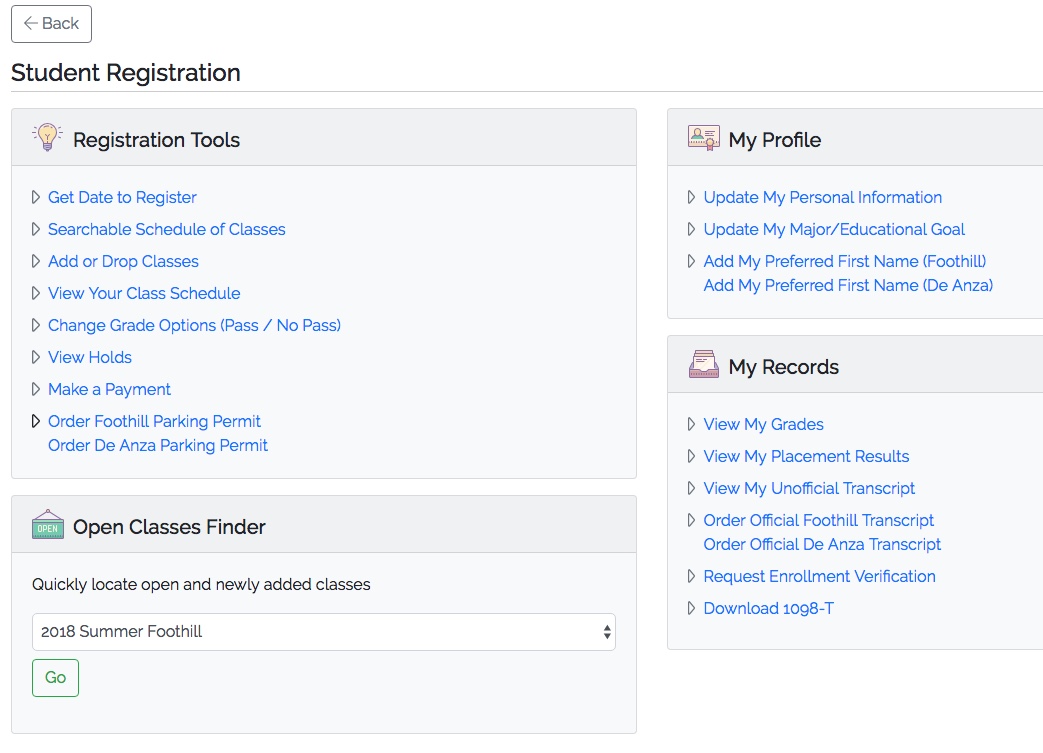 Want to find or add a class? Click on Apps in the left-hand menu, then look in the Student section for the "Student Registration" app.
When you open the app, you can choose from a menu of activities to get your registration date, search the schedule of classes, or add classes. You can make a payment or even order your parking permit. Just click on an activity and you'll be led through a series of steps, much like with the old MyPortal.
Important MyPortal Information
If you have difficulty connecting to the new MyPortal, you may need to clear your browser cache and cookies and make sure you're using the latest version of your browser. After you do that, type the new MyPortal address – myportal.fhda.edu – into your browser. Don't forget to update your bookmarks or favorites list to the new page. Find more information in the MyPortal Quick Guide.
If you are using a public or shared computer, be sure to close all browser tabs and log out from MyPortal when you are finished. If you close your browser window or tab without logging out, someone else could access your account. Always make sure you log out on the original tab or window that you used to sign in. Find more information in the MyPortal Security Guide.
---