De Anza College has been designated a "Voter Friendly Campus" by two national organizations that are working to promote student involvement in the democratic process.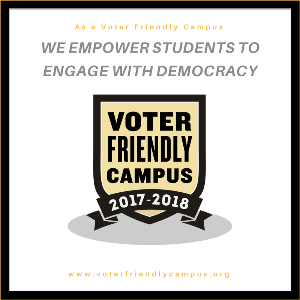 The honor recognizes the work of a small army of De Anza students who planned and carried out an ambitious, nonpartisan voter registration campaign on campus last summer and fall. About 50 student volunteers fanned out to register students and made classroom presentations on the importance of voting. They were led by Mako Mori and Kaede Hamilton, both student interns at De Anza's Vasconcellos Institute for Democracy in Action (VIDA).
All told, the students registered about 600 voters, according to Hamilton. The volunteers then followed up with a campaign of flyers, presentations and personal contacts aimed at reminding students to cast their ballots on Nov. 8.
badge designating a Voter Friendly Campus, with text that says We empower students to engage with democracy"We need to make young people realize that they do have political power, because right now a lot of young people feel they are neglected by the political process," said Hamilton. She added that the project was a good exercise in team-building and leadership for herself and Mori.
Political science chair Robert Stockwell and VIDA director Cynthia Kaufman served as mentors for the project.
"Voting is a way of determining who will be the deciders. The policy-makers are going to make policies that impact all of us, so it's a fundamental necessity to participate in the democratic process," Stockwell said.
The "Voter Friendly Campus" national initiative is led by the Campus Vote Project of the Fair Elections Legal Network and by NASPA – Student Affairs Administrators in Higher Education.